VETERINARY CLINIC AND ANIMAL HOSPITAL
Veterinary clinic Letná
Even more accessible thanks to the new clinic in Letná
Many clients come to us from all over Prague, but also from Central Bohemia. Therefore, when we had the opportunity of the second clinic, it came as a good choice.
Some clients will be closer to their doctor, others will appreciate the increased capacity, when even at peak times we can cure more acute cases. Doctors who knows them personally will always take care of your pets.
The same doctors serve at both clinics and have records of all treatment in the veterinary program in one cloud veterinary program.
Home visits to the Prague 6 and 7 area, with the possibility of convenient online ordering via the order form.
So far, our working hours are Mon-Fri 8—20 and Sat, Sun 10—13, we plan to expand office hours in the future.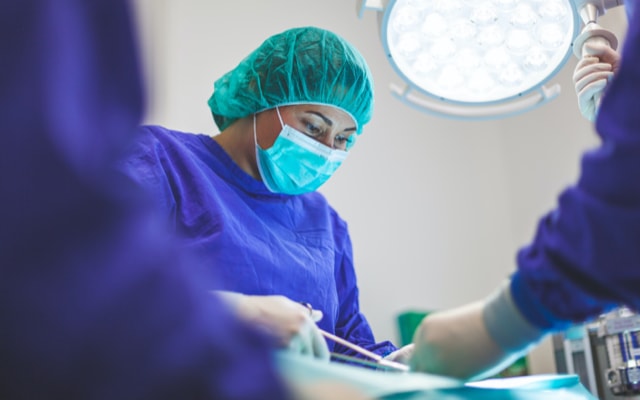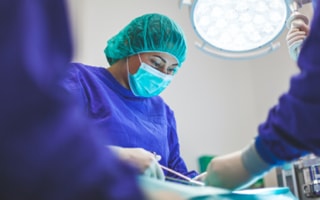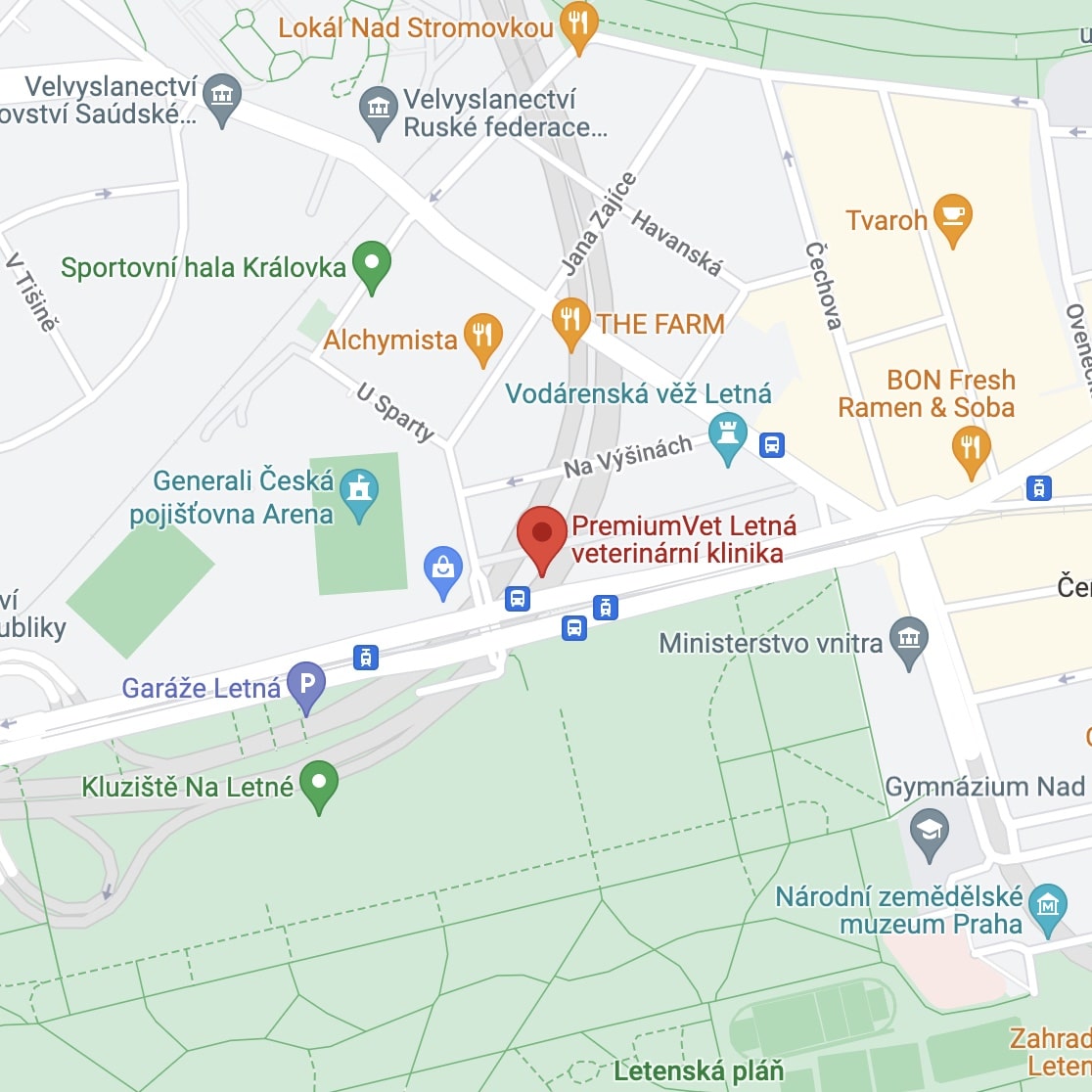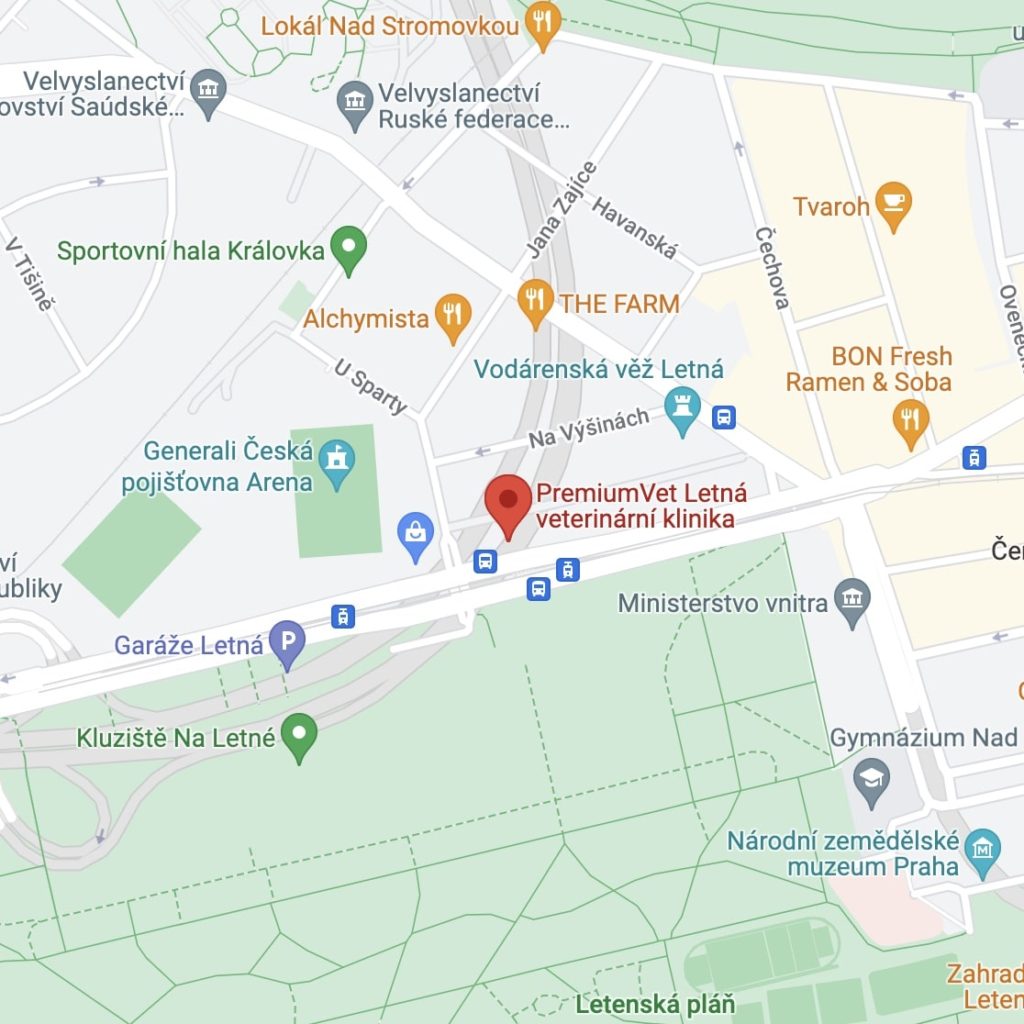 We are located on the border of Hradčanská and Letná next to the Sparta stadium and the Sparta tram stop. If you are interested, we will come to you.
Weekends at no extra charge
Open on public holidays
Possibility of hospitalization of patients
At the clinic laboratory – blood, urine and stool results within 10 min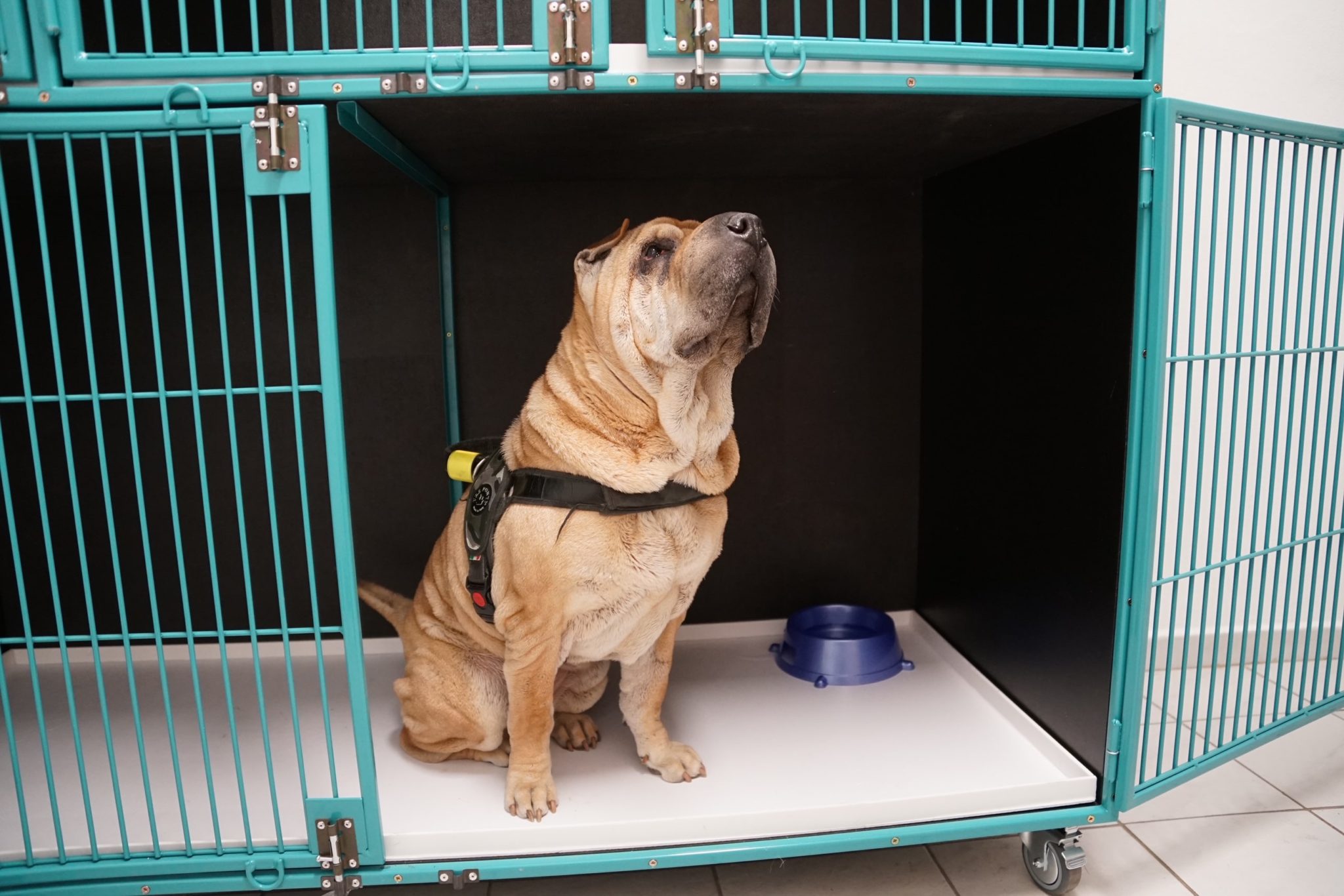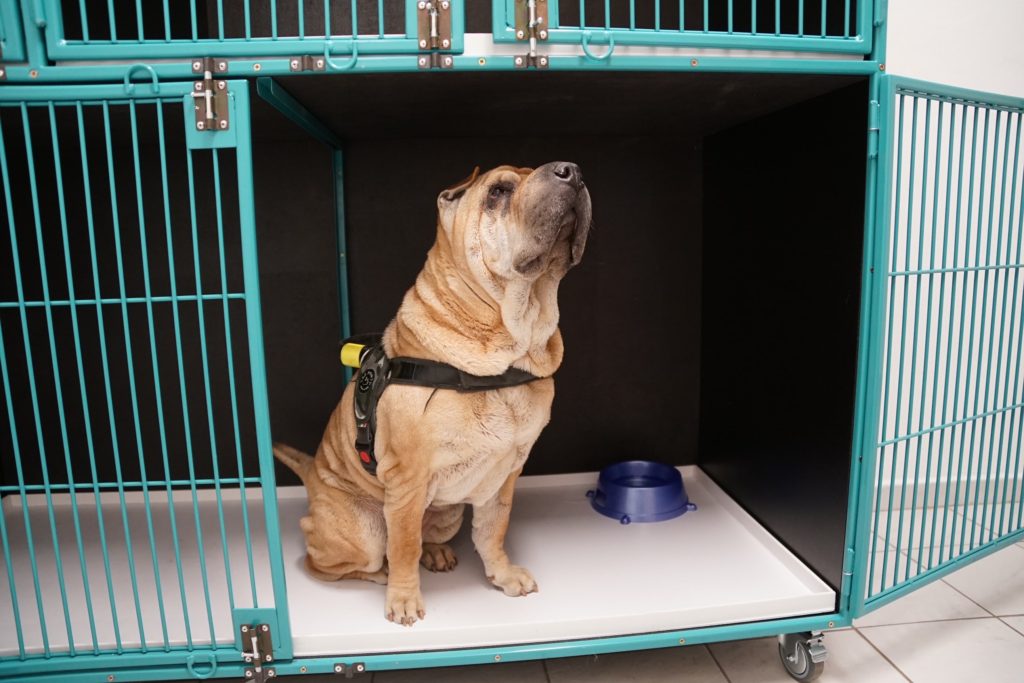 Veterinary pharmacy, ordering various veterinary drugs, antiparasitics and diets
Excellent instrumentation – X-ray with digitization, ultrasound with probe for the smallest animals, inhalation anesthesia – safe for short-lived dogs and small mammals, dental ultrasound, glucometer, biochemical and hematology analyzer, a large number of snap tests with immediate evaluation – no need to send to laboratories, doppler for measuring blood pressure, microscope for cytology on site, oxygen generator for patients with respiratory failure, infusion pumps, monitoring of anesthesia and pulse oximeter, uricult, Heine otoscope, refractometer, etc.
Our team consists mainly of proactive doctors with an average of ten years of experience in the field, with a sensitive approach to patients and an effort for continuous education.
In addition to general practitioners, doctors also focus on cardiology, orthopedics and dentistry and dermatology.
Surgery
Soft tissue surgery – neutering of cats or cats, neutering of bitches and dogs, removal of the testis in the abdomen in cryptorchids, removal of milk bars in neoplastic tumor changes, including preoperative examination, chest X-ray and subsequent histology – we never remove just one teat, but the whole bar. Abdominal and thoracic surgery, eye surgery, soft palate surgery and other operations of brachiocephalics, perianal hernias, large tumors in the abdomen and skin, including adhesions, application of esophageal probes, urethrostomy, surgery in rats and rabbits and guinea pigs, including preventive castrations.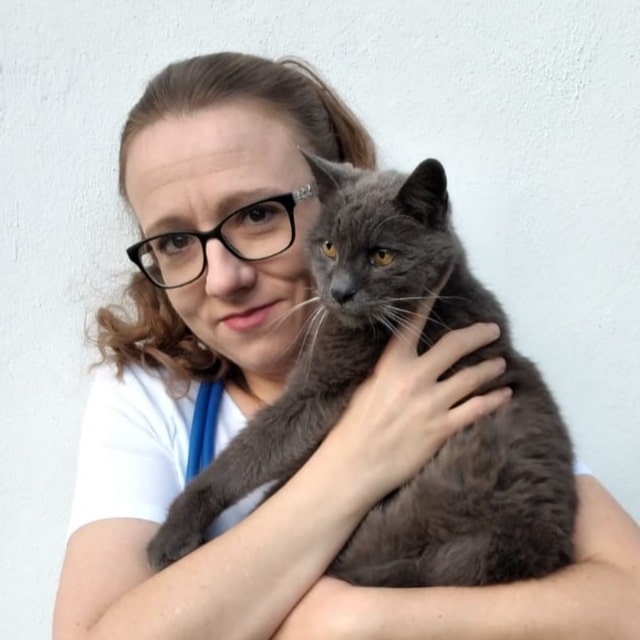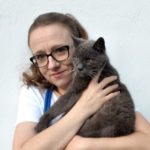 MVDr. Halamková
Acute medicine
Inflammation of the uterus, overturned stomach, acute bleeding, removal of the uterus, foreign bodies in the digestive system, bowel entanglement and the like. Postoperative hospitalization and monitoring of the further condition of patients is a matter of course for us.
Veterinary pharmacy
Sales of drugs and feeds immediately at the reception or after sending an order or prescription for prescription drugs to clients of other veterinarians. We can also send medicines and feed to your home.
Medicine of elderly animals
We have extensive experience with the medicine of elderly animals and geriatric patients. We will improve their quality of life, reveal any hidden diseases and set up a wellness plan.
Hospitalization of the seriously ill
We have the option of hospitalizing seriously ill patients. We often hospitalize patients with pancreatitis, with kidney failure, when the animals drink a lot, the animals often vomit or diarrhea.
Orthopedics and dentistry
Solution of fractures, displasia. Repair of damaged ligaments and dislocations (luxation), knee joint surgery. PenHipp hip assessment. TPLO, TTA, TTA-rapid, MMP. Trochleoplasty and transposition of tibial tubes. Assessment of hip laxity in dogs from 16 weeks of age. Amputation, plating on long bones, roding. Arthrodesis, LCC lateral suture with nylon and crimp.
Tooth analysis, X-rays (intraoral X-ray with direct digitization). Teeth polishing to prevent tartar. Safe inhalation anesthesia.
Cardiology and pulmonary at the Žižkov branch
Pulmonary sampling by the so-called BAL method for the diagnosis of chronic cough, ECG, proBNP examination of the heart, X-ray examination.
Small mammal medicine
Tooth grinding in guinea pigs, rabbits and other animals that stop eating, complete imaging of teeth, preventive and curative castration, removal of tumors, broken legs and dislocations in rabbits, encephalitozoonosis, coccidiosis, dysmicrobia and tympania and especially anorexia – conditions when the animal does not eat, with the hospitalization of such patients and regular care by feeding and drug administration several times a day. X-ray, USG diagnostics and blood collection.
Dermatology
Animal itching, hair loss, allergies and much more will be solved by our skin specialist with many years of experience from the University of Vienna.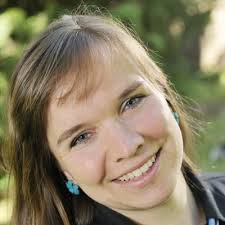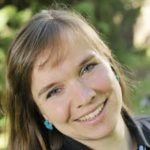 MVDr. Richterová
Endocrinology
Glycemic curves and monitoring of animals with diabetes, Cushing's syndrome, hypothyroidism and hyperthyroidism, diseases of the genital system, etc.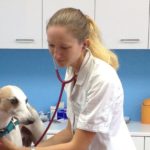 MVDr. Třešňáková
Price list
| | |
| --- | --- |
| Vaccination of a dog (infectious diseases + rabies) | CZK 200 - 850 depending on the type of vaccine |
| Vaccination only against rabies | 250 - 350 CZK depending on the type of vaccine |
| Cat vaccination (infectious diseases + rabies) | 380 - 860 CZK according to the manufacturer |
| Cat vaccination Purevax RCPCH extended vaccine (also against Chlamydophila felis) | 860 CZK |
The listed prices include 21% VAT
Weekends in the period 11 – 20 are with us at no extra charge.
In the week after 8 pm an emergency surcharge
CZK 416 for unordered patients who arrive
in the last 30 minutes of office time.
Why to choose us
Work during the weekends, you call, we will reply to your SMS. We always do our best for your pet. Our team is big enough to be able to help in any situation and time.
We are here for you during the week and on the weekends
A careful approach is ours
We will explain each situation clearly
Own parking space for clients and others in the area
Short waiting time in the surgery and on the phone
The most modern inhalation devices and an experienced anesthesiologist
We pay attention to exceptional cleanliness
We are transparent and you know or you can ask detaily the price in advance
Order by phone and via the web
Do you need quick help? We are ready.